Gamma Communications, [AIM:GAMA] the UK cloud telecom specialist, reported half year results to 30th June 2022 on the 6th of September. Despite a tough economic environment, Gamma's results have remained resilient as the company produced revenue growth of 8% to GBP234.7m (1H21: GBP217.4m) and stellar growth in profit, an increase of 19% in profit before tax to GBP38.4m (1H21: GBP32.4m). The closing net cash balance for the period was GBP72.6m compared to GBP49.5m at the end of December 2021.
Positive results for Gamma were driven by growth in Gamma's largest and most mature market, the UK, where indirect sales related to UCaaS (unified communications as a service) products grew 10%. Gamma's direct business, which returned to growth, in the period, grew 7% from the prior year as the company won significant contracts with public sector bodies such as the Home Office. Gamma's Direct Business is largely related to projects in extending telephone solutions for Microsoft Teams.
Early stage in Europe
The company's progress in Europe was more muted, where revenue grew 1%, but on a constant currency basis revenue was 4% ahead of the prior year. Gamma has been attempting to replicate its success in the UK overseas with a European expansion over the last few years, however this result shows Gamma is still in the early stages of building a foothold in the European market. Whilst Gamma highlighted the underpenetrated nature of Europe compared to the UK for Cloud PBX solutions, management admitted in the half year report that customer adoption for cloud communication services remained "stubbornly low".
The first half update for Gamma marks the first result delivered under the leadership of Gamma's interim chief executive, Andrew Belshaw after the ex-CEO Andrew Taylor stepped down in July 2022. Whilst Andrew Taylor helped to build considerable shareholder value for Gamma since the companies IPO, investors can be reassured of the track record Andrew Belshaw brings, having joined Gamma in 2007 and serving as chief financial officer since Gamma's IPO. In the half year report Andrew Belshaw provided the following update of confidence to shareholders:
"Gamma is well placed to navigate the publicised macro-economic headwinds. We are a leader in a market with long-term structural growth, have a high degree of recurring revenue and have been and will continue to be strongly cash generative. We have a robust balance sheet that will allow us to continue to invest in the business as well as support organic growth with selected acquisitions."
Acquisition story
Its no secret Gamma Communications has been an aggressive pursuer of bolt-on acquisitions. In recent years Gamma has made a string of purchases aimed at both improving the breadth and depth of its product suite – such as the purchase of Manchester-based Mission Labs in 2021 to expand Microsoft Teams communication solutions and with the purpose of opening new markets, such as the 2020 acquisition of HFO holding AG, a German provider of UCaaS solutions.
In the half year report, Gamma noted it has continued to pursue acquisitions with the August purchase of NeoTel, a UCaaS business in Spain for €5.5m in cash with potentially a further €3.5m of contingent cash consideration depending on the performance of NeoTel in 2023. Gamma's management team suggest this acquisition will considerably improve Gamma's ability to develop sales in the Spanish communications market.
Despite this acquisition, a considerable investment in capex of GBP7.8m and a dividend of GBP8.5m during the period, Gamma ended the half year with a sizable net cash balance of GBP72.6m, leaving the door open for a potentially sizable and earnings accretive bolt-on acquisition by the year end. During a capital markets event in 2021, Gamma announced it has identified 24 potential targets that have met Gamma's criteria for being acquired into the group.
With a healthy balance sheet evident at the end of H1, and further bolt-on acquisitions announced, Gamma makes no departure from its well-versed strategy. See below for Gamma Communication's prudent use of operating cash flow from 2016 – 2021.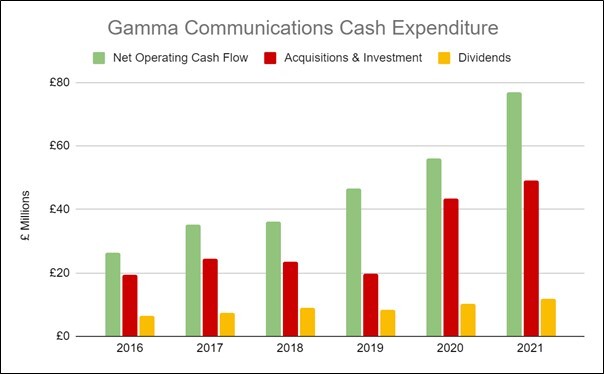 In terms of outlook, Gamma reiterated the confidence seen in updates earlier this year. The company highlighted structural demand drivers such as the requirements for flexible working and the ongoing transformation from fixed line communications to cloud based solutions. For full year 2022, Gamma expects to deliver Adjusted EBITDA and Adjusted in the upper half of the range of market forecasts. Analysts currently expect Adjusted EBITDA in the range of GBP102.3m – GBP106.8m and Adjusted EPS in the range of 67.1p – 74.6p.
With Gamma's shares falling c.50% from peak levels in 2021, in what Equity Development analysts have called 'unjustified', Gamma is left on a P/E of 16 times earnings expected in 2022. Such a valuation is significantly below the average multiple paid for the business since its IPO in 2014. As the business continues to deliver against its strategy and prove resilient compared to a flagging economy, there is a strong argument to suggest Gamma's shares should re-rate back to more normalised levels.