The American dream of home ownership has become out of reach for some consumers. But, in my opinion, that doesn't mean families can't build up wealth for the long-haul. 
For previous generations, buying a home was a rite of passage: You took out a 30-year mortgage, enjoyed a tax break on the interest you paid and usually saw the underlying value of the property increase over time.
That pattern broke down during the during the 2008-2009 financial crisis. Millions of Americans suddenly were saddled with big mortgages just as property values tumbled.
Home ownership rates
Even a decade later, home ownership rates haven't fully recovered.
As of the second quarter of 2019, the U.S. homeownership rate of 64.1%, down from 64.3% in the year-ago period.
Younger Americans, below the age of 35, seem to be really struggling. Back during the housing boom of 2005 and 2006, home ownership rates were about 40% for this age group. Now they're at 36.4%.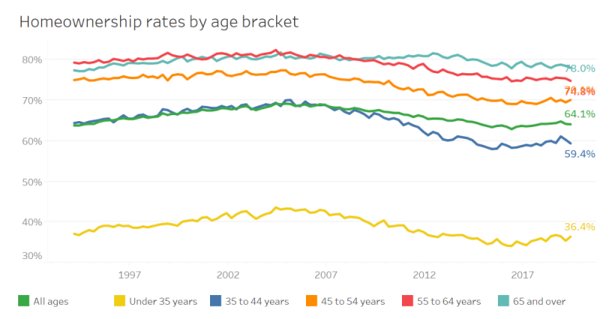 Stagnant Incomes
Part of the problem is that in recent years property prices have outstripped growth in incomes, making it tougher for young couples to pull together a down payment to cover 15% to 20% of their mortgage.
Another wild card is the long-term trend in housing prices. The last financial crisis shattered assumptions that home prices always trend up. That's no longer a given.
Trade offs
More fundamentally, there's the question of whether a home is the best investment vehicle for couples to build wealth. Every real estate market is different and shaped by multiple variables.
Yet there may be cases in which households may be better off renting and investing their savings in the stock market.
Last year, fast-rising home prices and rising interest rates grew three times as fast as the increase in rents nationally, CNBC reported citing data by realtor.com.
Retirees
Existing homeowners approaching retirement, too, should ask themselves whether they are better off paying off their mortgage early.
In other words, rather than paying down your home loan early to save on interest expense does it make more sense to divert savings into the stock market seeking a higher return.
Ameriprise Financial recently did the math in an interesting post and perhaps paying off the mortgage early wouldn't be the right move for some households, according to one hypothetical example.
Consider this example courtesy of Ameriprise Financial :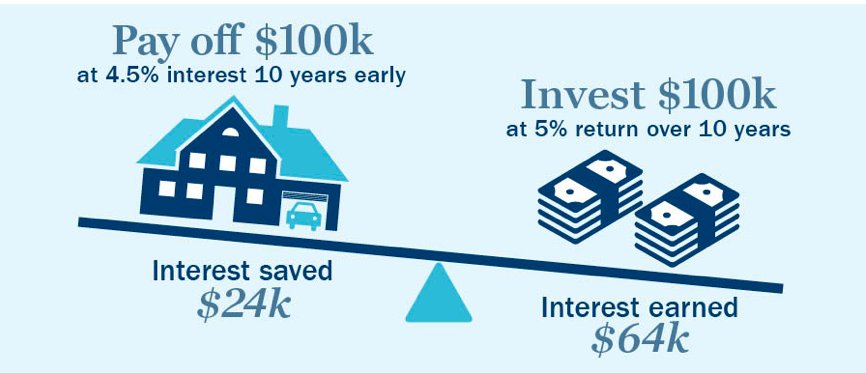 Takeaway
Every situation is unique and financial goals and tolerance for risk vary. One should consult with a financial advisor and tax specialist before considering such a big financial decision.
That said, the old certainties about the wisdom of home ownership have come in for revision since the financial crisis of more than a decade ago.
This material is from Interactive Advisors Asset Management and is being posted with Interactive Advisor Asset Management's permission. The views expressed in this material are solely those of the author and IBKR is not endorsing or recommending any investment or trading discussed in the material. This material is not and should not be construed as an offer to sell or the solicitation of an offer to buy any security. To the extent that this material discusses general market activity, industry or sector trends or other broad based economic or political conditions, it should not be construed as research or investment advice. To the extent that it includes references to specific securities, commodities, currencies, or other instruments, those references do not constitute a recommendation to buy, sell or hold such security. This material does not and is not intended to take into account the particular financial conditions, investment objectives or requirements of individual customers. Before acting on this material, you should consider whether it is suitable for your particular circumstances and, as necessary, seek professional advice.